Interview med
Master Destiller Ronald A. Renwick
fra Lagavulin
Med eneret for Whiskyklubben Angels Share bringer vi et interview med Mr. Ronald A. Renwick som er Master Destiller hos Lagavulin. Hr. Renwick er interviewvet af Eric McKnudsen, Whiskyklubben Angels Share.
The following is a written retelling on a conversation between Donald A. Renwick Distillery Manager at Lagavulin and Eric Knudsen (member of Angel-Share), Thursday the 3rd of February 2005.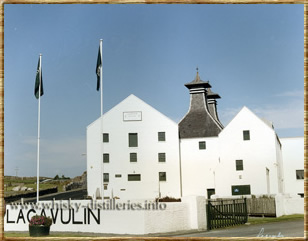 Eric. First of all I would like to thank you for taking your time to answer my question As I explained in my fax, I am going to give a small introduction to the Single Malt that I am presenting at our next dinner / Whisky night this Friday. I have tried to find facts on Lagavulin on the Internet, but have not had much luck. The only real information I have been able to find is listed in the email I send to you.
Donald. There is a lot of incorrect information on the Internet, but I will send you an information leaflet, which will give you all the dates you are looking for. Please e-mail you postal address to me.
Eric. Can you give more details, or news of what have happened at Lagavulin since 1962? Donald. When you look at the information leaflet you will see that it records many changes since 1962.
Eric. How long how you been with the Company, and what is your history / connection to the Single Malt Whisky business.
Donald. I started with our company in June 1981 at the old White Horse bottling plant in Glasgow. Transferred to the Shieldhall bottling plant in 1984 and then moved to the Dewars Bottling plant in Perth in 1989. My background was Electrical Engineering and I held various management positions in the maintenance departments of these bottling plants. In December 1993 I moved to work in the Maltings plants at Burghead and Roseisle and then moved into Elgin office engineering department in 1995. I have been distillery manager at Lagavulin since January 1999. It was my first venture into distillery management I have enjoyed my 24 years in the whisky industry, especially working with the staff at Lagavulin. They are a great team of characters with years of experience and many of them have family connections to Lagavulin over the 187 years of its life. When I have some spare time away from the distillery one of my hobbies is researching into my family history. During my research I was surprised to discover my great great grandfather owned a farm near Loch Lomand and he suffered heavy penalties for illicit distilling.
Eric. Can you also tell me how many people are working at Lagavulin distillery? Donald. We have 15 people working at Lagavulin distillery.
Eric. Five years ago I always had a Lagavulin bottle in my house, because it was possible to buy it in every airport, especially Copenhagen and Billund, from which I travel a lot. Today it is not often that I find Lagavulin in airports. Can you tell if you have seen a decrease in sales since the new tax-free laws in Europe?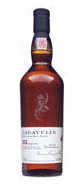 Donald. During the 1980s there was a reduction in world wide whisky sales and lots of distilleries closed. Most of distilleries still working at that time only produced a few days per week. So because of that many distilleries suffer from lack of stock from that period. As Lagavulin is 16 years old then you should understand the problem. To help to resolve this, we have to allocate our stocks of Lagavulin 16-year-old malt through out the world. Over the next few years Lagavulin should become more readily available.
Eric. Can you explain a little on you're marketing strategy - are you planning the release on new special editions in the future, or are you going with tradition?
Donald. At present have 4 expressions of Lagavulin a 16-year-old, The Distillers Edition, 12-year-old cask strength, and 25-year-old cask strength. Remember my task in life is to produce and store the new make Lagavulin spirit and I am not involved in marketing strategy. However to the best of my knowledge I do not see any major changes in the near future.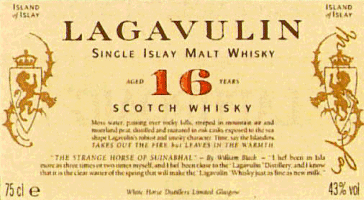 Eric. Have you explicit chosen not to be very present on the Internet?
Donald. We have a web site called malts.com Look for Lagavulin distillery on that site.
Eric. How many litres / gallons / bottles are you producing each year?
Donald. We produce approximately 2,3 million litres per year. Remember a lot of that is lost as the angel's share during maturation.
Eric. Are you producing the same amount of whiskey every year?
Donald. We try our best.
Eric. Is the production determined by certain factors such as weather or the likes, or is it a matter of capacity of your facility?
Donald. We try to produce as much as we can through out the year, working a 7 days a week. We are at maximum output for our distillery at present.
Eric. Is all Lagavulin whisky produced in Port Ellen, and is it all sold as Single Malt or is it used in other blends? Donald. Approximately 80 to 90 % of our production is sold as single malt. The remainder is used for blending.
Eric. How important is the water from The Solum Lochs to the taste and quality of Lagavulin Single Malt?
Donald. The water from the Solum lochs is obviously important, as it is our own water, good quality with lots of peat in it. However one of the most important parts is the Malted barley (malted at our own Maltings plant on Islay) During the kilning process a peat fire introduces the peat smoke into the malted barley. This gives Lagavulin its distinctive peaty and smoky flavours.
Eric. How should a Lagavulin Single Malt best be enjoyed to your opinion?
Donald. If I am drinking one dram, I drink it without water, if I am having more than one I would add some water. The best answer is to drink it the way you enjoy it.
Eric. What Single Malt Whiskey is your favourite?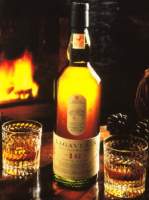 Donald. Lagavulin is my favourite dram but there is a time and place for all malts, one for every occasion in life. For example if I was having a nice BBQ, I enjoy a dram of Glenkinchie, a light lowland malt. I think Lagavulin is perfect for drinking with good friends, around a log fire and sorting out the world problems.
Eric. I am bringing a 1987 Lagavulin Distillers Edition, Double Matured to our next meeting. Can you explain a little on this, a symbol of af intermingled R and D is shown on the bottle - what is meant by it?
Donald. The symbols are D and R, my initials, it stands for Donald Renwick as I am the master distiller!
Eric. Finally I would love to bring a genuine Lagavulin anecdote to our next meeting.
Donald. Big Angus McAffer worked at Lagavulin for 36 years. His father and grand father worked here, his great grand father also worked at Lagavulin for 57 years. Angus retired about 7 years ago. He visits us almost every day to check we are doing things the same way he was trained.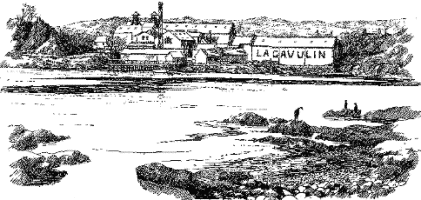 Eric. Once again I would like to thank you for your time and friendly response to my correspondence.
Donald. You are welcome.
Eftertryk er ikke tilladt uden skriftlig godkendelse fra Whiskyklubben Angels Share.